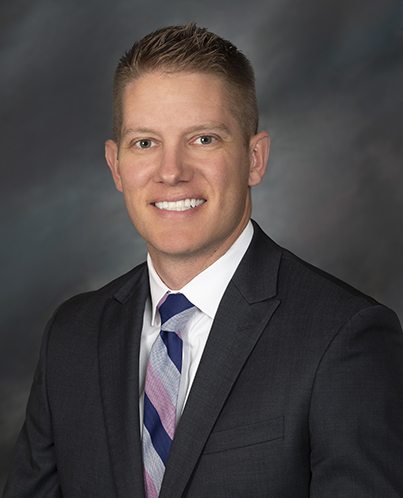 Tyler S. Clark, MD
Billings Downtown
Billings Downtown
2900 12th Ave. N
Suite 140W & 100E
Billings, MT 59101

Interventional Spine and Musculoskeletal Medicine, Physical Medicine and Rehabilitation
Education
Dr. Clark received his medical degree from the University of Miami Miller School of Medicine after completing his undergraduate degree at Brigham Young University in Provo, Utah. He then completed a residency in Physical Medicine and Rehabilitation at the University of Texas Health Science Center in San Antonio, Texas. Lastly, he completed a North American Spine Society fellowship in Interventional Spine and Musculoskeletal Medicine at the prestigious University of Utah Hospital in Salt Lake City, Utah.
Dr. Clark is board certified in Physical Medicine and Rehabilitation, and completed specialized fellowship training in Interventional Spine and Musculoskeletal Medicine. He is on the Evidence Analysis Committee of the Spine Intervention Society and he is a member of the North American Spine Society, Spine Intervention Society,  American Academy of Physical Medicine and Rehabilitation, and was a visiting instructor at the University of Utah.
Specialties
Dr. Clark focuses on the diagnosis and treatment of spine and musculoskeletal pain conditions, with an emphasis on improving function and quality of life. He has expertise in the care of musculoskeletal injuries such as arthritis and overuse injuries, as well as neck and back pain with and without pain radiating to the arms or legs. This includes disc herniations, spinal stenosis, and degenerative conditions of the cervical, thoracic, and lumbar spine. His philosophy is grounded in a multi-modal, comprehensive approach that is customized to each patient to help achieve his or her specific goals. 
Procedures
Dr. Clark performs the following procedures:
Epidural steroid injections throughout the neck and back

Peripheral joint injections

Sacroiliac joint injections

Ultrasound-guided injections

Radiofrequency ablation of the neck, back, and sacroiliac joint

Radiofrequency ablation for shoulder and knee arthritis as well as for persistent pain after total joint replacement

Intra-discal steroid injections

Regenerative medicine injections including platelet-rich plasma

Basivertebral nerve ablation for vertebrogenic or discogenic pain

Spinal cord stimulation

Peripheral nerve stimulation
Interests
In his off time, Dr. Clark is usually water or snow skiing, mountain biking, hiking, camping, or playing any sport with his beautiful wife and five children.