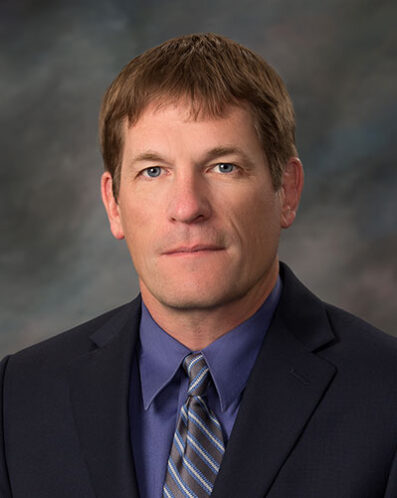 Steven J. Klepps, MD
Billings Downtown
Billings Downtown
2900 12th Ave. N
Suite 140W & 100E
Billings, MT 59101

Shoulder & Elbow Disorders, Sports Medicine
Education
Dr. Klepps, MD received his medical degree from Washington University in St. Louis, MO after completing his undergrad at Carroll College in Helena, MT.  He then performed a surgical internship at the Washington University/Barnes Hospital and followed that training with an orthopedic residency also at the Washington University.  Lastly, Dr. Klepps completed a fellowship program in Shoulder and Elbow disorders at Mount Sinaii Hospital in New York City, NY.
Specialties
Dr. Klepps is board certified by the American Board of Orthopedic Surgery and is affiliated with the American Academy of Orthopedic Surgeons, Montana Medical Association, American Society of Shoulder and Elbow Surgeons (ASES) as well as the Association of Clinical Elbow and Shoulder Surgeons (ACESS).
Dr. Klepps' practice focuses on the complete care of shoulder and elbow injuries as well as sports knee injuries.  
Featured techniques used include arthroscopic rotator cuff repairs, shoulder replacements including reverse prostheses, shoulder stabilizations including Latarjet procedures, elbow arthroscopy.  
Dr. Klepps works with patients that are experiencing the following orthopedic issues:
Arthritis of the shoulder

Arthritis of the elbow

Rotator cuff injuries to the shoulder

Labral injuries to the shoulder

Fractures to the shoulder

Tennis elbow injuries

Meniscus injury to the knee

Acromioclavicular/Sternoclavicular injuries
Dr. Klepps provides orthopedic care in the following cities:
Billings, MT

Harlowtown, MT

Big Timber, MT
Procedures
Dr. Klepps performs the following procedures:
Shoulder Arthroscopy including rotator cuff repairs and labral repairs

Shoulder Replacements

Repair of Shoulder Fractures

Open Shoulder Stabilizations and Reconstructions

Elbow Arthroscopy

Tennis Elbow Release

Knee Arthroscopy
Interests
In his off-time Dr. Klepps enjoys coaching wrestling and soccer, skiing, mountain biking, hiking, water surfing, and spending time with family and friends.