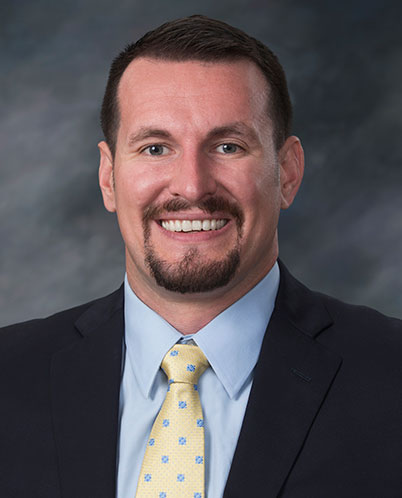 Michael T. Groover, DO
Montana Hip & Knee Center
Montana Hip & Knee Center
1739 Spring Creek Lane
Billings, MT 59102

Miles City
Miles City
2600 Wilson Street
Miles City, MT 59301

Hip and Knee Reconstruction
Education
Dr. Groover is fellowship-trained in adult hip and knee reconstruction. He obtained his undergraduate degree at the University of Wyoming, where he played defensive end for the football team. He completed medical school at the Lake Erie College of Osteopathic Medicine and orthopedic surgery residency at Grandview Medical Center in Dayton, OH. In 2018 he was awarded the Osteopathic Orthopedic Resident of the year by the American Osteopathic Foundation. He completed the prestigious adult hip and knee reconstruction fellowship at the Cleveland Clinic in Cleveland, OH.
Dr. Groover is board certified by the American Osteopathic Board of Orthopedic Surgery and is affiliated with the American Osteopathic Academy of Orthopedics, Montana Medical Association, American Association of Hip and Knee Surgeons.
Specialties
The focus of Dr. Groover's practice is the treatment of hip and knee arthritis with minimally invasive, rapid recovery total hip replacement, partial (unicondylar) knee replacement, total knee replacement, and kinematically aligned total knee replacement. He is specialty trained in revision hip and knee replacement with a focus on the treatment of infection, implant failure, and complications from trauma and severe deformities.
His philosophy in the treatment of adult hip and knee conditions includes designing a treatment protocol that helps patients keep their own hips/knees functioning as well as possible. When performing joint replacements he offers a variety of techniques so he can tailor treatment to each patient.
Dr. Groover provides orthopedic care in the following cities:
Billings, MT

Lewistown, MT

Miles City, MT
Procedures
Dr. Groover performs the following procedures:
Partial Knee Replacement

Patellofemoral joint replacement
Partial medial and lateral knee replacement

Total Knee Replacement

Kinematic alignment knee replacement
Knee replacement with bone in-growth implants

Revision Knee Replacement

Treatment of prosthetic knees for infection, fracture, knee instability/pain, extensor mechanism rupture, fractures, implant failure.
Complex "limb salvage" to help patients avoid amputation.

Total Hip Replacement

Direct anterior total hip replacement

Muscle sparing, minimally invasive, rapid recovery approach to hip replacement.

Direct superior total hip replacement

Minimally invasive approach to hip replacement for patients who are not candidates for direct anterior hip replacement due to bony deformity or body habitus.

Revision Hip Replacement

Treatment of prosthetic hips for infection, fracture, dislocation, implant failure.

Complex acetabular and femoral reconstruction.

Knee Arthroscopy

Treatment of meniscal tears, cartilage injury.
Interests
In his off-time Dr. Groover enjoys spending time with his family, learning to hunt, snowmobiling, skiing, and working on his family cabin.