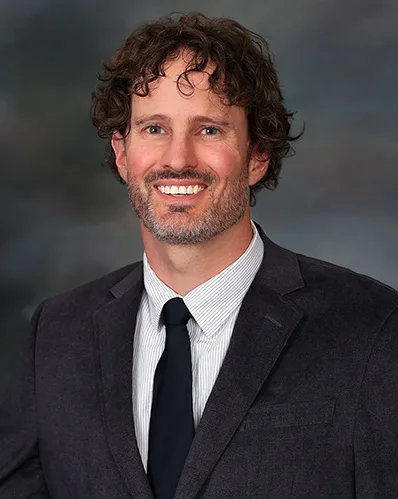 Timothy G. Hiesterman, DO, FAOAO
Bozeman
Bozeman
711 West Main Street
Bozeman, MT 59715

Trauma, Total Joint Replacement, General Orthopedics
Education
Dr. Timothy G. Hiesterman, a fellowship-trained orthopedic trauma surgeon, has over 13 years of experience treating complex adult and pediatric fractures.  Additionally, he provides robotic-assisted total joint replacement surgery of the hip and knee and comprehensive general orthopedic care. Dr. Hiesterman is committed to keeping abreast of newly emerging techniques and the latest technology, and is a leader in maintaining the highest standards of operative and non-operative orthopedic care.
A Montana native born and raised in Deer Lodge, Dr. Hiesterman obtained his undergraduate degree at Concordia College in Moorhead, Minnesota graduating with Magna Cum Laude honors.  He then received his medical degree from Arizona College of Osteopathic Medicine graduating with a 4.0 GPA.  He went on to complete an internship and residency in Orthopedic Surgery at Grandview Medical Center in Dayton, Ohio. He then pursued advanced training by completing an Orthopedic Trauma Surgery Fellowship at the University of Minnesota – Regions Hospital in Saint Paul, Minnesota.
In 2010, Dr. Hiesterman was awarded the prestigious Bob Green Memorial Award for achieving the highest score in the country in the written and oral board certification examinations among members of the American Osteopathic Academy of Orthopedics (AOAO).  Dr Hiesterman has authored several journal publications, presented at national meetings, and is a contributing author to an orthopedic textbook publication.  He has been selected by the American Osteopathic Board of Orthopedic Surgery (AOBOS) to conduct oral and clinical examinations for surgeons applying for board certification, and also writes test questions for the written AOBOS board examinations. He is a member of both the Orthopaedic Trauma Association (OTA) and AO Trauma North America (AONA), the two leading world organizations dedicated to fracture care. Furthermore, Dr. Hiesterman has been chosen by the AONA to become AO Faculty, educating and training other orthopedic surgeons in modern fracture care principles and techniques. In 2019, Dr. Hiesterman was presented with the Award of Fellow by the AOAO.  This award recognizes outstanding achievements and contributions to the healing art, to the Practice of Orthopedic Surgery and the Osteopathic profession at large.
Dr. Hiesterman remains on the forefront of new technological advancements in fracture management and total joint replacements. This includes state-of-the-art implants, computer-navigated surgery, Mako robotic-assisted joint replacements, anterior approach to total hip arthroplasty, and minimally invasive surgical techniques. His primary goal is to perform surgical procedures with the highest accuracy and in the least invasive manner possible, equating to faster recovery with better outcomes for his patients.
Dr. Hiesterman has a holistic approach and philosophy of care that is individualized to each patient's needs and provides his patients with the highest quality of orthopedic care available. Dr. Hiesterman brings his extensive knowledge of musculoskeletal injuries, complex fracture care, and joint replacement surgery to Ortho Montana's new Bozeman location and is accepting new patients by appointment.
Dr. Hiesterman is honored to return home to Montana and provide his community with an approach that values patient care above all else.  Prior to joining Ortho Montana, Dr. Hiesterman spent over 10 years at St Cloud Orthopedics caring for patients in central Minnesota.  He lives in Bozeman with his wife and three boys.
Specialties
Dr. Hiesterman offers the following treatment, as well as many others:
Adult and pediatric fracture care (except spine)
Robotic-assisted total joint replacement surgery of the hip and knee
Anterior approach to total hip surgery
Treatment of complex fractures around joints
Fractures of the pelvis and acetabulum
Correction of complications that arise from traumatic injuries
Minimally invasive surgical techniques
Comprehensive general orthopedic care
Second opinion evaluations
Interests
In his off time, Dr. Hiesterman enjoys snow skiing, hiking, mountain biking, and traveling with his family.